Let's start! Elemental Knights R!
The fantasy world where various people
and spirits live appear in beautiful visuals!

Even alone or with everyone,
you can feel free to play even if you are a person who
aim for full-fledged completist or a person who is beginner.

With your favorite Cosplay and skill,
you can enjoy it as you wish!
Make your own characters and start
on a magnificent adventure trip!

This is real-time full 3D authentic MMORPG that
you can adventure with players all over the world!


Purchase benefits: Limited Cosplay items!
Everyone who purchased the Nintendo Switch version comes with luxurious purchase benefits. This limited Cosplay set only available for purchasing the Switch version!
Limited to everyone who purchased this switch version, "Cosplay item" 9 items of Shine World Series and 10 "Premium Gacha ticket" will be gifted!
You can go to "My Page" from the character selection screen and receive it from "Receive Purchase benefits item of Nintendo Switch".
When starting a new game, after you create a new character, you will be able to move to "My Page" from the character selection screen after the tutorial is advanced and the menu is released.
Received items will be able to be retrieved from "Item"> "Item inbox" in the game.
Receipt of benefits will be limited to one time per person (for 1 Nintendo Switch).
Even if you takeover to another data after receiving benefits item, you can not receive benefits item again.

Features of Nintendo Switch version
Graphics are stunning beautiful!
Expression of map graphic light source and effects expression etc. are further enhanced! You can adventure the immersive world that spreads across Switch screens, such as footsteps, sand smoke, and stunning sun's expressions that change depending on where you walk!
Fully compatible with smartphone version and game data!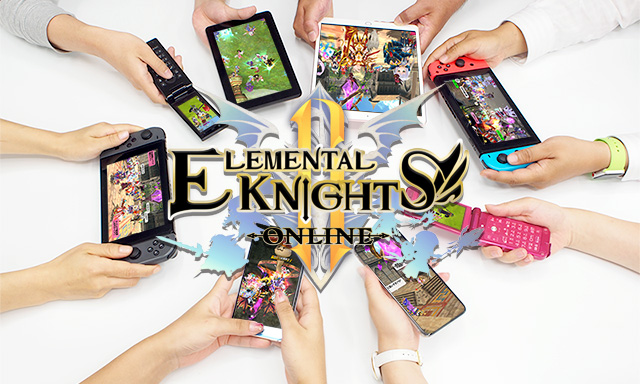 Even those who have played with smartphone version are satisfied! You can take over the smartphone version data and continue playing! Of course you can use all the characters and all the items you have, as is!
[Account linkage attention]

The Switch version and the smartphone version can be taken over to each other. Customers starting from the Switch version can also take over data to the smartphone version and play.
Please note that smartphone version EKOpt and EKO medal can not be taken over. EKOpt/EKO medal before taking over will remain even if you take over it, so you can use it again as soon as you take over to the original device again.
You can also play with smartphone version!
Game world can play with smartphone version common server! You can also play with your friends who play smartphone version!
Amazing!? Jump function added!
Finally the jump function is implemented in Elemental Knights! In the Switch version, a new action "jump" is available! Maybe you could climb that place that you could not go so far ...?
Main update plan
We will continue to hold various updates, events and campaigns in the future.
Preparing to English region
We are preparing with the release in eShop which is in English region.Even though, if you purchase EKOR in Japanese eShop, you can play in English if you change Nintendo switch language settings to English.This game is played combining touch screen and Joy-Con. So the handheld mode is.
To "Elemental Knights R" in Nintendo eshop
Push "eShop Country Selector" below.
Select your region(Please note that eShop in some regions does not handle Elemental Knights.)
At each region eShop page, search "Elemental Knights" in search window(or button).
Elemental Knights R for Nintendo switch
Title
Elemental Knights R
Release date
2nd November 2018
Game type
Roleplaying (MMORPG)
Platform
Nintendo switch download
Price
$22.75(USD) *Price will change in region.
Approx. storage
1GB